Remember this pendant I bought?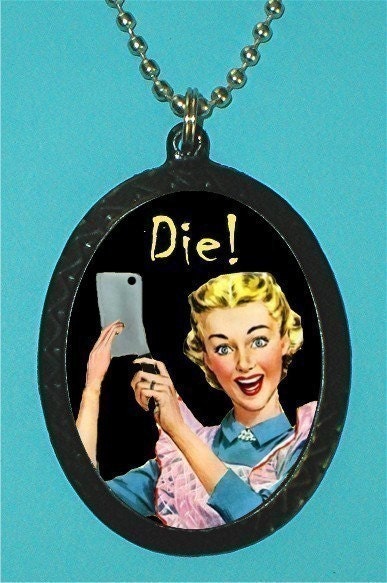 I've gotcher pearls right here, bitch.
Yeah, I wore that to the commissary today, and I discovered it's not actually a pendant.
It's a motherfucking talisman, bitches.
The week before Xmas, mere days after the last payday, and I was not cut off once, I was not boxed in, and the rude bitches [read Old Skool Wives who think they're better than the rest of the masses] who parked their carts in the middle of the aisle and allowed their enormous posteriors to block one whole side of the remainder didn't dare stay in my way for long.
At first, I chalked it up to the commissary not actually being as crowded as it should have been despite the fact that (as I learned later) by 11am yesterday, every register was open, and the line was stacked through the frozen section. By all rights, the place should have been overridden. It wasn't.
Then I caught someone looking at my necklace. And then she glanced away and pushed her cart as fast as she could in the opposite direction. Obviously, the presence of the talisman around my neck didn't just encourage folks to move in another direction.
It diverted motherfucking traffic headed to the commissary
. Truth!
And so hear ye all: If you, too, want an easy time at the commissary,
wear
one
of
these
.
Peace out.